If you're buying a home in a community with a homeowners association (HOA), there are some things you need to know. There are different levels of HOA's from higher dues on patio homes where the homeowners association handles shared maintenance for the homeowners like lawn care, snow removal, and sometimes exterior maintenance. The average HOA's in typical communities on single family homes collect dues either monthly or annually to protect the integrity of the community and maintain common areas such as mowing front entrances, community pools, and to hopefully enhance property values for the homeowners.
The main benefit of life with an HOA is that you can enjoy the amenities you want without having to pay for them by yourself. But, shared benefits means that your dues are used for two things –property maintenance and improvements and for building reserves. This can include future expenses like swimming pool resurfacing or unexpected expenses like fallen tree removal. It also means that the HOA may have some rules that you may or may not agree with, such as no yard signs or flags on holidays.
That's why you need to see the governing documents of the HOA, including the CC&Rs, – covenants, conditions, and restrictions. These are the rules of esthetics, conduct, maintenance, and security the homeowners voted to have, such as how many pets you can own or whether you can park your car on the street. By reviewing these prior to purchasing you can insure you are satisfied with the requirements for all homeowners in the area to keep the neighborhood running smoothly.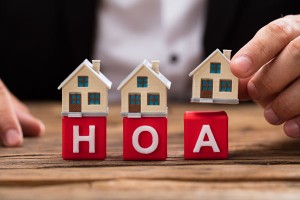 Keep in mind that HOA boards are composed of volunteer homeowners like yourself and that they're not property managers. HOAs typically hire third-party property managers so board members can enjoy the community, too.
You can then make the decision whether this particular community is right for you.